DAVE HARRINGTON GROUP - Pure Imagination, No Country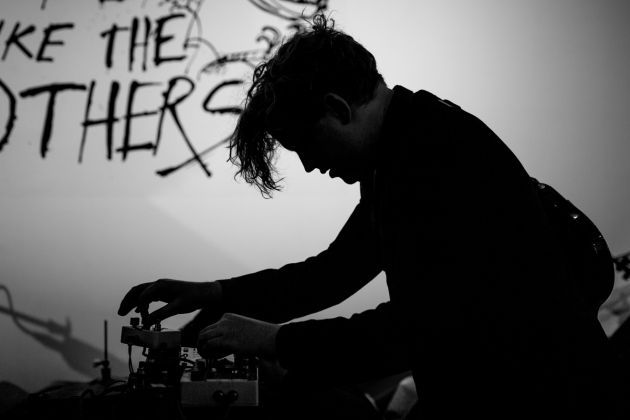 Since the 2011 debut of Dave Harrington's revered Darkside project with long-time collaborator, Nicolas Jaar, Harrington has become one of this century's most unlikely guitar heroes. Harrington blends avant-garde improvisational jazz roots to psychedelic touchstones like Jerry Garcia and David Gilmour, to sophisticated dance-floor burners. 
While his latest album Pure Imagination, No Country doesn't necessarily sound like a Darkside record, it exists at a different axis in the same continuum. Harrington uses guitar as a lead voice, sculpting and creating a new core language with a gifted cadre of players including vibraphonist Will Shore, synth bassist Andrew Fox, drummer Samer Ghadry, and post-rock polymath Lars Horntveth of Jagga Jazzist. 
The album was released on February 1st 2019 on CD/LP/Digital courtesy of Yeggs Records, and is available through Bandcamp, on all digital platforms, and wherever fine records are sold. 
With the announcement Harrington shared the album opener "Well", a frenetic 2-minute glimpse into the album's spirit of improvisation and composition through psych rock, jazz and electronic music — all at once, in equal measure.  The follow up single, "Belgrade Fever," was released Jan. 15.  
From their 2014 EP and 2016's Become Alive, Dave Harrington Group have received acclaim from The 405, Drowned In Sound, Noisey, NPR, Pitchfork, Rolling Stone and many more. And with the help of Will Shore (TMBOY, Francis Harris, Uzupis), Andrew Fox (Visuals), Samer Ghadry, and multi-instrumentalist Lars Horntveth (Jaga Jazzist), Pure Imagination, No Country showcases the most focused distillation of Harrington's collaborative musical framework yet, which he notes as being inspired by Miles Davis's innovative "electric years." 
Harrington celebrated the release with select shows including a special five night residency in Brooklyn, NY at Threes, which featured a rotating lineup of guest players (including Brian Chase, Joe Russo, Kenny Wollesen, Stuart Bogie, Yuka C. Honda, Shahzad Ismaily, Greg Fox, Jeremy Gustin, Spencer Zahn and more).